Dr. Julia Gräfin Maltzan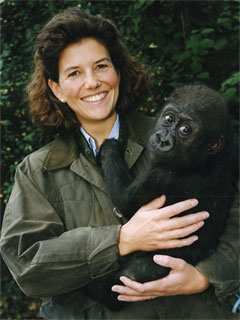 Academic and professional career
2010 - Foundation of the "Clinic for Zoo and Wild Animals" (www.wildlifevets.de) and the "Academy for Zoo and Wild Animal Protection e.V." (www.azws.de)
1996 - 2009 Zoo Veterinarian at Munich Zoo Hellabrunn
1999 Specialist degree in Zoo and Wild Animal Medicine
1993 - 1995 Doctoral thesis on Veterinary Medicine "Ballistics of Remote Injection Systems"
1987 - 1993 Veterinary Medicine degree at the Università degli Studi di Torino (Italy), FU Berlin and LMU München (Germany)
1985 - 1986 Language studies at the Université Libre de Bruxelles (Belgium)
1985 Diploma from the humanistic secondary school Ratsgymnasium Bielefeld (Germany)
Additional work experience
Internship in the Hospital Equino de Barcelona (Spain, 1986), the Murray Hill Animal Hospital NYC (USA, 1985), the Otjiwarongo Veterinary Clinic (Namibia, 1991, 1993), and in the GTZ Basic Animal Health Service (Malawi, 1993).
Key achievements
Organization and implementation of projects of Nature and Wildlife Conservation:
Biodiversity in Comoé National Park (Ivory Coast); Reintroduction of Alpine Ibex in National Park Hohe Tauern (Austria); Reintroduction of Przewalski Horse in Altyn Emel National Park (Kazakhstan); Translocation of Mhorr Gazelle into M'cissi Game Reserve (Morocco); Preservation of African Wild Dog (Zimbabwe); Epidemics Control in Wild Goats in Kurdistan (Iraq).
Expertise in husbandry, breeding and feeding of zoo and wild animals, including the prevention and treatment of diseases.
Organizing and carrying out of courses for immobilization techniques, dartgun and blowpipe.
Teaching of veterinary students of LMU Munich and zoo keeper apprentices.
Examiner for animal keepers at the Chamber of Commerce Munich.
Numerous publications and lectures.
Regular cooperation with documentaries and the TV-series "Nashorn, Zebra & Co." of the Bavarian Television.
Scientific advisor of the German Association of Wildlife Parks (Deutscher Wildgehege- Verband e.V.) and Animal Rescue Organization Munich (Tierrettung München e.V.).
Animal Welfare Representative of the Bavarian Forest National Park.
Language competences
Italian, English and French (fluent). Spanish (basic).